In this knowledge based article by WebSouls web hosting company, we will learn How to delete a DNS Zone in WHM.
WHM is a web host manager which is a control panel for resellers hosting and root users to manage C-Panel Accounts. 

DNS zone contains the information of all the records of each domains. DNS zone holds records like A-records, MX records, NS records and so on.  
Step-1:
Login into your WHM account.
Step-2:
Search for the Delete a DNS Zone from the top left search bar.

Step-3:
In the DNA zone removal, Search for the domain of which you want to remove DNS zone.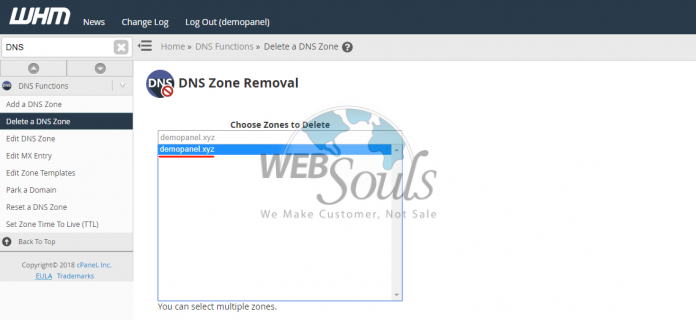 Step-4:
After selecting the domain click on Delete button to permanently remove the DNS zone of your desired domain.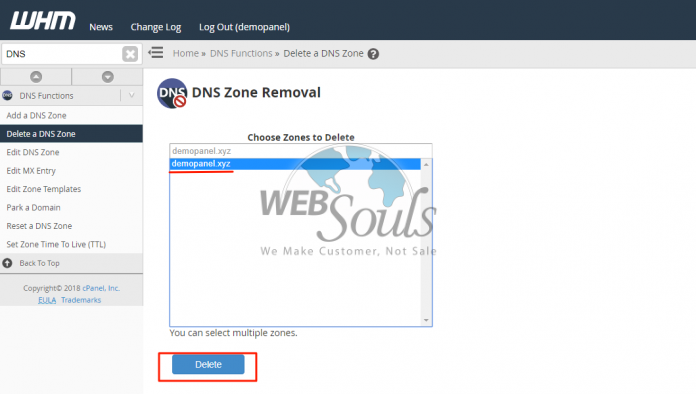 Step-5:
After zone removal your domain is not accessible on internet.
Hope this article helps enough on how to delete a DNS zone in WHM with your reseller web hosting accounts. WebSouls always tried to facilitate and educate its valued with their Web Hosting Services In Pakistan. If you are looking to start your own reseller hosting business or planning to make your own online presence then Web Hosting and Domain Registration Services in Pakistan stands out to match your needs. Keep in touch with us for more knowledge based article like these.
Regards
WebSouls Team Technical Support